DIY Auto Repair in Vinita is Easier Than Ever with Ford Parts From Green Country Ford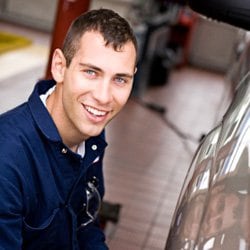 At our extensive parts center at Green Country Ford, fixing up your vehicle has never been easier. Repairing your car can be a daunting task even under the best of circumstances. That's why it is extremely important to give yourself every opportunity to get things right. At Green Country Ford, we give our customers the very best in Ford parts, tools, and accessories so that when you are under the hood, you have everything you need to get the job done right the very first time. 
We only stock manufacturer-recommended genuine Ford parts, so you'll never be putting anything less than perfection back into your car. 
For those do-it-yourself repairmen who are on a budget, Green Country Ford is the place for you. We always have deals to help out our fellow car mechanics in their time of need. Come check out our auto parts specials for deals that should impress you. Fixing up your car doesn't have to cost an arm and a leg when you come to us. You might find that hard-to-find missing part for a lower price than you were expecting. 
For those of you that already know what part you need, we provide a simple and easy-to-use online form that can be filled out prior to showing up. This allows those that are on a schedule to come by, pick up their part, and be on their way in no time at all. It's as easy as that.